Anderson County Sheriff Office • 101 South Main Street • Clinton, TN 37726 • 865-457-540
Employment Opportunities
Anderson County Sheriff's Department welcomes your interest in our organization. Applicants who are selected are considered to be members of one of the most respected and professional law enforcement agencies in the state.
To maintain the highest caliber and qualified personnel, this office sets high standards for applicants. Only the highest caliber individual will be considered for employment. Setting and maintaining these high standards ensures a high level of respect in the community we serve.
Current Open Positions:
The application for employment is required as part of the recruitment process for all Sheriff's Department vacancies. Applicants must also pass the civil service test. Click the icon for the application.
Scheduled Civil Service Testing Date(s)
The Civil Service Exam will be given on the following dates. Once your application is received, you are required to test within 6 months, or your application will be purged.
| | |
| --- | --- |
| February 20th, 2020 | 6:00 p.m. |
| April 16th, 2020 | 10:00 a.m. |
| June 18th, 2020 | 6:00 p.m. |
| August 20th, 2020 | 10:00 a.m. |
| October 22nd, 2020 | 6:00 p.m. |
| December 17th, 2020 | 10:00 a.m. |
E911 Communications
Staffed by full-time and part-time dispatchers from the Sheriff's Department, with assistance from reserve deputies, the E-911 Center includes the latest in Next Generation 911 telephone equipment.
Computer equipment has been upgraded to include Computer-Aided Dispatch software and National Crime Information Center software. This equipment aids law enforcement officials in researching suspects and allows dispatchers to have instant access to arrest warrants, civil papers, local criminal histories, and prior arrest photos.
Our Communications Center is closed to the general public for security reasons, however, arrangements can be made for school classes/groups who would like to tour our center. Please direct all inquiries to the Communications Supervisor:
Shandi King
(865) 457-2414
Anderson County Detention Facility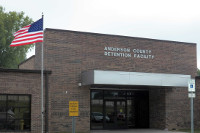 Built-in 1994, the Anderson County Detention Facility serves Anderson County as well as the cities of Clinton, Oak Ridge, Rocky Top, Norris, and Oliver Springs. It also serves the Tennessee Highway Patrol, Tennessee Bureau of Investigation, Tennessee Wildlife Resources Agency, the Tennessee Valley Authority Police, and area park authorities.
The facility can hold a total population of 565 inmates. The facility has 88 full-time Corrections Deputies with three contracted nurses who work a rotating 24-hour on-call schedule. There are three full-time maintenance engineers and two Kitchen Deputies on staff who plan and oversee the preparation of approximately 363,000 meals annually.
There are five (7) housing units which are currently broken down as follows: Unit 7 (new edition 212 beds) is broken into four pods; medical, sex offenders, general population/medium security and lock-down/maximum security. Unit 6 consists of inmate workers (27 beds), Unit 5 is comprised of minimum-security inmates (64 beds), Unit 4 is our main female pod (69 beds), Unit 3 is the female maximum security unit (16 beds +1 special needs cell), Unit 2 is a male lock-down over-flow pod (48 beds), and finally, Unit 1 is male-only workhouse inmates (128 beds). There are also temporary holding cells in the booking section which are used for the processing and release of inmates.
The facility is a direct supervision/indirect supervision facility where the deputies are located in the housing units with inmates and /or constant visual contact supplemented by routine walk-throughs by Deputies 24 hours a day. Each Deputy provides security against escape, inmate on inmate violence, and all other facility policies as well as enforcing state laws. Deputies also provide for the daily requirements of the inmates (meals, commissary, recreation time, etc.).
The lobby is open 7 days a week 7 am -3 pm. If you have any questions regarding the facility we invite you to stop by or call and an officer will be glad to assist you in any way.
Chief Jailer
(865) 457-7100 Ext.128
Reserve Deputy Unit
The reserve deputies volunteer their time to enforce the laws and serve the citizens of Anderson County while holding down other full-time jobs. The only difference in reserve deputies and regular deputies is that reserve deputies are not paid nor are they certified peace officers as recognized by the State of Tennessee Peace Officer Standards and Training.
Reserve deputies function mainly as a support unit for the Sheriff's Department providing personnel for detention, patrol, dispatch, warrants, and civil. Other activities include security for special events, school districts, football games, and fund-raisers throughout the county as requested by the Sheriff.
The current strength of the Reserve Unit is 40 fully trained, peace officers. Qualified applicants who are either certified or willing to be trained are sought continually.
Basic requirements for membership in the unit:
Applicant must be at least 21 years of age.
Have a high school diploma or GED.
Have a good driving record.
Have no criminal record.
Each deputy must pay for all their own uniforms, equipment, and training. Reserve deputies must commit to working a minimum of 16 hours per month. Senior deputies commit to 24 hours per month. Some even contribute up to 100 hours per month.
Extensive testing before an individual is admitted to the group includes a physical, psychological, drug and background investigation. After this procerss is completed, an applicant may be approved for membership by the reserve unit leaders.
The reasons why reserve deputies donate their time and effort to the citizens of Anderson County are varied. Most say that they want to contribute something back to the community in which they live or work. Others feel that the satisfaction and tremendous sense of accomplishment they realize from doing even the smallest job to help someone in the county far outweighs any compensation.
The Sheriff's Department and the citizens of Anderson County are very fortunate to have such dedicated, civic-minded and professional officers whose only goal is to help the Sheriff's Office achieve a high quality of community service through law enforcement.
Anyone interested in joining the Reserve Unit should contact Lieutenant Kenny Sharp at the Anderson County Sheriff's Department.
Application forms are available to download or you may contact us with your postal address and we will place one in the mail to you.